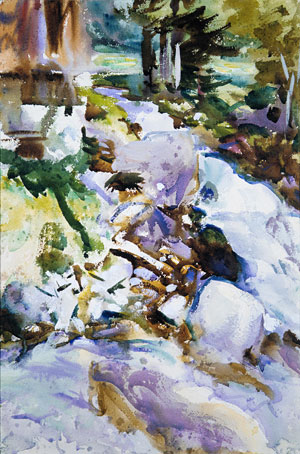 The technique I actually enjoy the most isn't digital at all; give me a brush and a watercolour kit, some fine paper and I will be the happiest person. I am compiling some interesting links about watercolours on the net, and here is one that deserves special attention.

The John Singer Sargent Virtual Gallery is a comprehensive archive detailing the life and work of this outstanding artist. I note this link because it contains a great selection of his watercolours, his most enduring and fascinating work, imho. Sargent produced many hundreds in this medium, from quick travel notes to more elaborate studies. Painted mostly outdoors, they include images of gardens, architectural fragments, exotic figure studies, boats, fruit, and foliage. Travelling extensively in Europe and the Near East, he documented the landscapes and characters he found in these journeys.

Of course, you might be interested in other areas of John Singer Sargent's œuvre, and the website exhibits his oil portraits (including many famous people of his time, like Henry James) , charcoal drawings and other techniques as well.

A related link: the Sargent at Harvard website provides a searchable database of images and texts about the artist. You may try, for example, to perform a "watercolor" (american spelling seems mandatory here) query as it is suggested in the search page.